Contact: Dr. Ian Getreu, Director, Business Development
Phone: +1 (503) 888-2372
Email:  Getreu@OzarkIC.com
FAYETTEVILLE, ARKANSAS May 2020 - Ozark Integrated Circuits Inc. (Ozark IC) in Fayetteville, AR was selected for a $750k, two-year Phase II R&D awards from NASA. The award will allow Ozark IC to develop a high-temperature packaging and multi-chip processor system capable of long-term operation at 500oC (nearly 900 degrees F) – a vital component for Venus exploration and many other applications, such as military/aerospace companies addressing jet and hypersonic engine needs.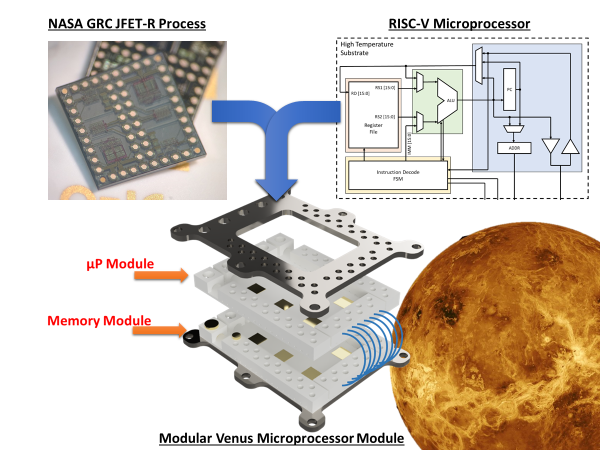 Based on the successful results of a Phase I project that started in the fall of 2019, Ozark IC will continue development of a multi-chip package for high-temperature, high-density electronic systems. Ozark IC will create the first 500⁰C RISC-V multi-chip system in a package as a way to illustrate the techniques (design procedures and the multi-chip package with high-temperature components) that go into creating a high-temperature electronic system.  The integrated circuit technology that will be used to create the RISC-V microprocessor is the NASA Glenn Research Center silicon carbide (SiC) JFET-R integrated circuit (IC) process, currently under license by Ozark IC. The IC components of the microprocessor system will be fabricated at NASA Glenn in Cleveland.
Ozark IC will perform the design of the processor and the multi-chip package, as well as functional testing of the complete 500⁰C RISC-V microprocessor. This heterogeneous chip integration system is the first of its kind for extreme high-temperature operation and is the latest and most complex demonstration of the technology that Ozark IC has been developing for extreme temperature operation. In the project, Ozark IC will use a 3Dn Tabletop system from Sciperio outfitted with a SmartPumpTM tool head and a surface mapping laser for conformal printing.
Complex electronic systems that can operate at high temperatures are necessary for space exploration, especially on the Venus surface (~470⁰C). A 500⁰C RISC-V microprocessor is a fundamental computing building block for almost all space exploration functions (such as actuation, environment sensing, robotic motion etc.) on the Venus surface. The processor allows for in-situ processing – putting the intelligence right at the point of sensing or actuation.
Other high temperature environments that can use this computing building block to perform the same functions are found in rockets, geothermal wells, jet engines, and hypersonic systems. The conditions inside a deep geothermal well, for example, are similar to the Venus surface: high temperatures, high pressures, and corrosive acids.
Congressman Steve Womack (AR-3) said, "Ozark IC's work is an excellent example of the innovative and breakthrough research happening in the Third District. The technology they are developing has the opportunity to support space exploration and improve jet and hypersonic engine capabilities. This award reflects the importance of these revolutionary systems, and it's great to see NASA build its research partnerships in the Natural State."
"The Arkansas Economic Development Commission is proud to have been a part of Ozark IC's journey for several years," said Arkansas Secretary of Commerce Mike Preston. "Being selected for a Phase II award from NASA is a great honor, and we are extremely proud of the contributions that Ozark IC is making in the state's tech sector as well as to the international scientific community."
About Ozark Integrated Circuits Inc.
Ozark Integrated Circuits, Inc (Fayetteville, AR). was founded in 2011. Ozark IC's mission is to "digitize" extreme environments by bringing best-in-class analog, mixed-signal and signal processing integrated circuits into the extreme conditions experienced in Energy Exploration, Aerospace, Space Exploration and Industrial Controls.   Ozark IC's solutions include hardware and software, integrated circuits and packaging. Ozark IC's strategy and technology have led industry watchers to recognize Ozark IC as a disruptive player in the extreme environments/rugged electronics marketplace. https://www.ozarkic.com/
If you would like more information about this topic, please call Ian Getreu at +1 (503) 888-2372 or email Getreu@OzarkIC.com