Contact: Dr. Ian Getreu, Director, Business Development
Phone: +1 (503) 888-2372
Email:  Getreu@OzarkIC.com
The $1.1M 2-year Small Business Innovation Research (SBIR) Department of Energy Phase II award will enhance Ozark IC's high-temperature platform family while targeting directional drilling in geothermal wells
FAYETTEVILLE, ARKANSAS July 2020 -
The objective of this project is a communication drill pipe system that supports directional drilling in high temperature geothermal wells by providing computational power at the drill head and linking it to a control base at the surface.
There is as much as 200,000 exojoules in untapped, carbon-free energy available from geothermal resources, which is 2,000 times the annual consumption of primary energy consumed in the U.S.[1] Accessing these geothermal resources requires drilling operations that must operate at temperatures up to 450⁰C (840⁰F).
To effectively develop these next-generation geothermal resources requires a directional drilling system capable of operating at 450⁰C, but most existing commercial directional drilling systems are limited to about 160⁰C (320⁰F).
There is therefore an urgent need for:
High temperature electronics that will provide computational power all the way to the drill head at 450⁰C to continuously sense conditions and implement instructions, and
A communication system that can bring environmental information (pressure, temperature, drilling direction etc.) from all points in the well to the surface and instructions from the surface to the drill head (drilling direction, speed, stop etc.)
Ozark Integrated Circuits Inc. (Ozark IC) is developing a family of high temperature "smart' modules that can operate from 100⁰C to 800⁰C (200⁰F to 1470⁰F). These modules, capable of operating in these regimes with integrated processing in addition to sensing, are being developed for a variety of applications ranging from hypersonic and jet engines to space exploration (including the ~500⁰C Venus surface) to geothermal exploration.
[1] J. W. Tester, B. J. Anderson, A. S. Batchelor, D. D. Blackwell, R. DiPippo, and E. M. Drake, The future of geothermal energy: Impact of enhanced geothermal systems (EGS) on the United States in the 21st century: Prepared by Massachusetts Institute of Technology under Idaho National Laboratory subcontract no. 63 00019 for the US Department of Energy. 2015.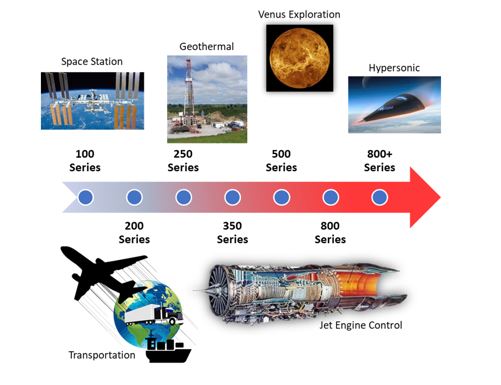 Working with partners, Cole Engineering Inc. (to develop the mechanical portion of the communication system) and AltaRock Energy Inc. (to provide specifications and testing of the final system), Ozark IC will develop in the next 2 years a prototype of the communication system for directional drilling in geothermal wells.
"This Phase II project is crucially important to us" said Dr. Matt Francis, Ozark IC's Founder and President, "It enables us to enhance and expand our existing family of high-temperature platforms while targeting the highly important field of directional drilling for geothermal wells".
Dr. Geoffrey Garrison, Vice-President, Research and Development for AltaRock Energy Inc. said, "Drilling can account for up to 50% of the development cost of a geothermal project. The development of directional drilling that will work in geothermal wells is a game-changer that will significantly reduce costs and development times for geothermal exploration and drilling. We are looking forward to working closely with Ozark IC and Cole Engineering on this new communications system and we are very pleased that DOE will fund this project".
About Ozark Integrated Circuits Inc.
Ozark Integrated Circuits, Inc (Fayetteville, AR). was founded in 2011. Ozark IC's mission is to "digitize" extreme environments by bringing best-in-class analog, mixed-signal and signal processing integrated circuits into the extreme conditions experienced in Energy Exploration, Aerospace, Space Exploration and Industrial Controls.   Ozark IC's solutions include hardware and software, integrated circuits and packaging. Ozark IC's strategy and technology have led industry watchers to recognize Ozark IC as a disruptive player in the extreme environments/rugged electronics marketplace.
### 
If you would like more information about this topic, please call Ian Getreu at +1 (503) 888-2372 or email Getreu@OzarkIC.com